12 STEP YOGA 4 UNITY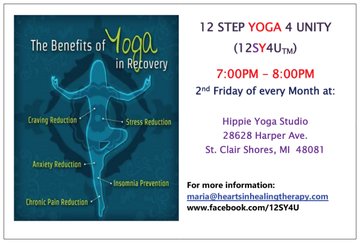 Every 2nd Friday of the Month
12SY4U is a gentle, basic yoga class designed for 12 Step recovery* to promote strength, confidence, and stillness.
*Includes coping with anxiety, trauma, and depression
Suggested Donation $5: proceeds for Michigan Animal Rescue League (MARL) and other animal rescues and shelters around Michigan.
For more information: click here.
---
Yoga 4 Anxiety
Friday, Sept 7th, 7 pm – 9:00 pm
$25 advance registration
Anxiety affects many people. Yoga can help many causes of anxiety.
Join Maria to learn how yoga affects the body and can help with the reduction of anxiety. Learn some yoga poses and breathing exercise that you can do at home. Maria will guide you through a yoga sequence to integrating everything discussed and will provide hand outs to continue your journey towards reducing your anxiety levels.
Please register early space is limited. Our last workshop sold out. We've added another! To register, click here.
---
Women's Relationship Group
WHO: Adult women ages 19 and up, divorced, separated, married, coupled
WHERE: Hearts-In-Healing Therapy, 22811 Greater Mack, St Clair Shores 48080
WHEN: 7:00pm to 8:30pm, Thursdays
DATES: Starting in September, TBA, 8 weeks
COST: $25 per session, or $160 advance registration.
CONTACT: Maria@heartsinhealingtherapy.com and (586) 777-3132
Please email or call to set up a brief 15 minute intake over the phone if interested.
Do you stay in unhealthy relationships too long?
Do you repeat unhealthy patterns in relationships?
Do you lose your identity, sense of self, and stop life goals?
Do you make sacrifices and not compromises?
Do you believe life is too hard alone?
Have you experienced and/or perpetuated mental, emotional, and verbal abuse?
Are you emotionally reactive instead of responsive?
This group will help you:
Identify the traits of a healthy relationship
Learn safe self-advocacy and communication
Practice setting healthy boundaries
Break the negative cycle of repeat patterns
Build self-esteem
Cope with stressors of daily life
Learn skills for emotional regulation
Commitment is for 8 weeks. Cash, Check, Credit, Debit, Paypal accepted.

Event info: Facebook/2htherapy
Page info: Facebook/Hearts-In-Healing Therapy
---